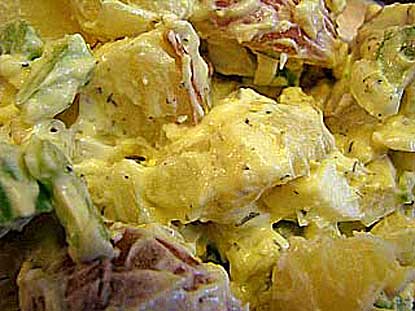 Difficulty: Easy
Servings: 8
Prep Time:
30 minutes
Cook Time:
n/a other than preparing potatoes
Ingredients
2 pounds new red potatoes
3 boiled eggs
1/2 cup chopped onion
1/2 cup chopped celery
3/4 cup mayonnaise
1/2 cup sour cream
1 tablespoon white vinegar
1 teaspoon dijon (or regular) prepared mustard
2 teaspoon dried or 1 tablespoon fresh dill
1/2 teaspoon salt
1/4 teaspoon pepper
Directions
Cut up potatoes (leave skins) and boil. Cool and drain. Chop eggs, onion, and celery, and combine in a large bowl with potatoes. Add mayonnaise, sour cream, vinegar, mustard, dill, salt, and pepper. Mix thoroughly and chill.
Categories: Entertaining, Potato Salads, Potatoes, Potluck, Salads, Side Dishes
Submitted by: suzanne-mcminn on April 5, 2011