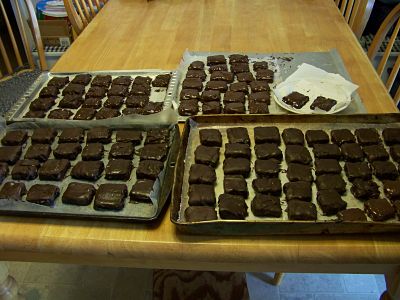 Difficulty: Easy
Servings: 40-50 pieces, depending on size
Prep Time:
about 1 hr, not including cooling
Cook Time:
~ 5 min
Ingredients
3/4 cup mashed potato (1 or 2 potatoes)
7 c sifted powdered sugar
1/4 pound butter (1 stick)
1/2 pound flaked coconut (2 c)
2 teaspoons vanilla
CHOCOLATE DIP:
12 ounces semi-sweet or dark chocolate chips (1 pkg) I like the dark chocolate.
1 Tbsp shortening
Directions
Pare, cook and mash the potatoes to make 3/4 cup.
In microwave, melt the butter. Add it to the mashed potato, powdered sugar, flaked coconut and vanilla, in a big bowl. Mix well.
Spread the mixture evenly about 1/2 in. thick on a small buttered cookie sheet. Place in a cool place to harden—a cool garage or back porch in the winter works well. When hard, cut the mixture into approx. 1 1/2 in. squares and dip in the chocolate mixture.
CHOCOLATE DIP:
Melt chocolate and shortening together in microwave for 1 min. Stir well. Melt for 15-30 sec. more if needed, and stir again.
Keep mixture warm. Dip the needham squares in the chocolate with a fork and place on waxed paper on a cookie sheet. Put in a cool place to harden.
Makes about 40-50 good-sized needhams. The recipe may be cut in half.
Categories: Candy, Old-Fashioned
Tags: Christmas Cookie
Submitted by: brookdale on December 6, 2011