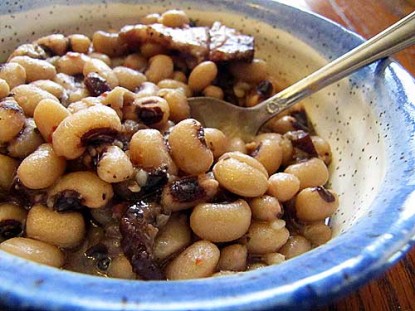 Difficulty: Easy
Servings: 4-6
Prep Time:
15 minutes
Cook Time:
4 minutes
Ingredients
4-6 slices bacon OR 1 ham bone
1 1/2 cups dried black-eyed peas
3 cups water
2 cups chopped onion, celery, green pepper (optional)
1 teaspoon crushed red pepper
1 teaspoon seasoned salt
Directions
If using bacon, partially cook bacon right in the pressure cooker where you will cook the beans. After partial cooking, cut bacon in 1-inch pieces. Add dried beans, water, and remaining ingredients including ham bone (if using instead of bacon). If using a ham bone, add a tablespoon of vegetable oil. If using bacon, leave at least a tablespoon of bacon grease in the pot. Use any mixture of onion, celery, and green pepper adding up to 2 cups, if desired. Bring your pot to pressure. Once the regulator starts jiggling, cook 4 minutes. Turn off the heat and let the pressure go down on its own. Serve over brown or long grain and wild rice. Also great with cornbread!
If NOT using a pressure cooker, pre-soak the black-eyed peas. Combine the black-eyed peas and the 3 cups of water. Bring to a boil; turn off the heat and let sit covered for one hour. Return the pot to a boil and add the remaining ingredients. Simmer for about 1 1/2 hours till black-eyed peas are tender.
Categories: Beans, Beans, Grains & Rice, Holiday, Main Dish, Old-Fashioned, Pressure Cooker
Submitted by: suzanne-mcminn on January 1, 2011