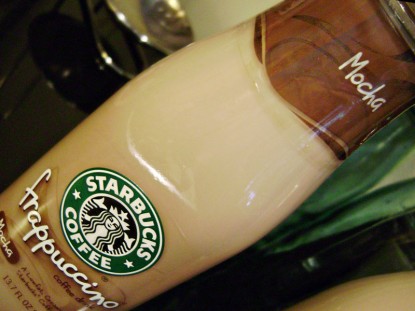 Difficulty: Easy
Servings: 1/2 gallon
Prep Time:
10 min
Ingredients
1 1/2 cups strong brewed coffee*
1/2 cup sugar
2 Tablespoons unsweetened cocoa (I used Dutch cocoa)
1 teaspoon ascorbic acid**
6 cups whole milk OR 6 cups low-fat milk + 1 Tablespoon pectin***
* Regular coffee can be used. If you'd like the exact taste of the bottled version, Starbuck's Espresso Roast gives that taste.
Brew 2 cups of cold water with 1/4 cup Espresso Roast grounds or 1/2 cup regular coffee grounds.
** Ascorbic acid is added originally as a preservative, but it does add that hint of flavor. It does not need to be used.
*** Pectin is used in low-fat milk to thicken it. If you use whole milk or raw milk, or if you just don't want to, pectin does not need to be used.
Directions
Brew the coffee.
Mix sugar, cocoa, pectin (if used) and ascorbic acid (if used) into brewed coffee until everything is dissolved. The mixture will thicken after cooled if using pectin.
Mix coffee mixture into milk.
Funnel into recycled sterilized bottles or pour into jars.
This recipe will fill 4 (13.7 oz) bottles and leave a little bit for a taste now or fill a 1/2 gallon jar.
Categories: Beverages
Submitted by: cindyp on January 28, 2011