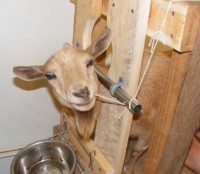 Say hello to Shelley aka Twiggitygoats from Roane County, WV!
Food interests: cheese making, growing and preserving food, healthy eating.
Hobbies: Rustic furniture business, working on the farm, Italian Spinone dogs, Nigerian Dwarf dairy goats (farm business)


Q. What are your favorite things to cook?
I tend to stick to the basics. In summer we eat a lot of simply prepared veggies from the garden starting with early lettuce, greens and broccoli then moving onto asparagus. In summer we have a lot of "vegetable plates" heaping with sauteed squash, green beans, corn and tomatoes. We also eat large fresh salads. In cooler weather I'm really a fan of do-ahead soups, stews and beans made largely from things we have canned, frozen and dehydrated. In short, we try to avoid prepackaged things as much as possible and try to eat what we can get locally and what we produce ourselves.

Q. How/when did you learn to cook?
Some would say I never really learned! My mother was not one who loved cooking but I basically learned from her. Since we have been raising much of what we eat I think I just learned to use what we had. I rarely use recipes. Maybe that is why I stick to the basics.

Q. Tell us about some of your cooking triumphs.
My most rewarding cooking adventures involve cheese-making which I started this summer. I was very happy that I learned to make some consistent cheeses from our Nigerian goat milk. I did consult recipes for this!

Q. What was your most memorable cooking tragedy?
I really don't have a real cooking tragedy to share but one time when I was learning to cook on my antique wood cook-stove, I managed to fill the entire house with smoke while trying to get the draft started. That was the day I had decided I would cook an entire Thanksgiving meal on my old stove. It turned out perfectly, well, except for the smoke.

Q. Describe your kitchen. Do you love it, hate it, and why?
Our kitchen is one we designed and built ourselves so I like it and it functions well. It has a high ceiling with high south-facing windows so it get lots of light.
I planned it in work zones so that everything would be where I could easily get to it when cooking, baking, and doing prep work. We built our own cabinets and I put pull-out drawers in every bottom cabinet. I tailored the spacing for the items I wanted stored there. There are a total of 14 pull out shelves.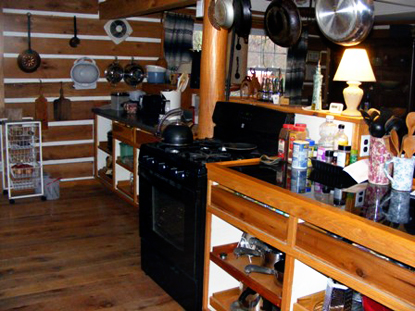 I finally convinced my hubby that I didn't want doors on these cabinets; I wanted to be able to access the shelves fast without all those flapping doors in the way! It has been 10 years now so I guess I'm in the clear.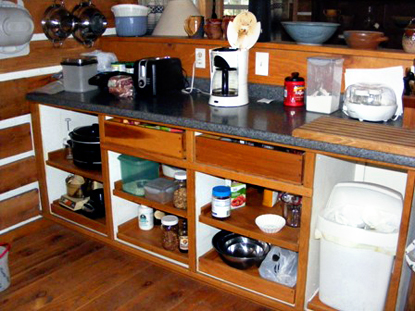 We have a gas range and have free gas so I use it a lot. I like to simmer things all day in my dutch oven instead of using a crock pot.
Adjacent to the main kitchen is a sun room with a sink we intended to use for house plants. However it now functions as extra work space and that is where I wash and store my milking equipment, cheesemaking supplies, dehydrator, vacuum sealer etc. It also houses an extra freezer.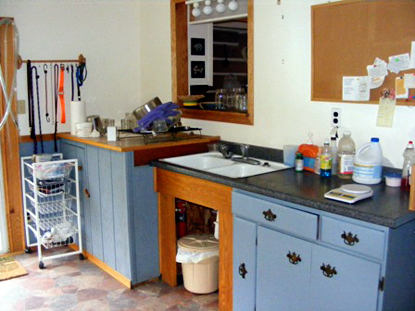 The only thing I would really change is to have tile floors instead of wood (we had lots of local oak so we used that) and I wish I had space for a wood cook-stove again.

Q. Is your pantry organized and are your kitchen drawers tidy? We need to know.
Actually it is fairly organized. I planned the storage as best I could figure and I try to get rid of the things I rarely use. I really don't know how that third blender sneaked in there. We have an old undergound root cellar that is now enclosed inside of our house so that is used for bulk storage of things like canned goods and the 100 pounds of pinto beans and brown rice that we just have to keep on hand.

Q. Do you have any favorite family cooking traditions?
Not really. I didn't come from a big cooking family. I have been known to have tuna salad for Thanksgiving dinner. Really, my favorite family cooking tradition is to let another member of the family cook.

Q. What is the one gadget (or ten) you couldn't do without in your kitchen?
I'm not a gadget person in general but I do use a yogurt maker, and one of those little sandwich maker things to make cornbread. I HAVE to have a pressure cooker because I generally forget to take stuff out of the freezer for supper so I have to be able to cook at the last minute.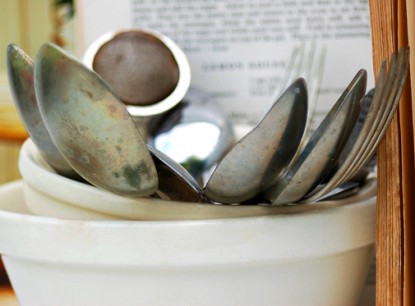 Q. If you had to take one food to a deserted island, what would it be?
Goat milk (and the goat) without a doubt. I swear I could (and do) live on the stuff,

Q. What is your go-to comfort food?
Well, it used to be ice cream and/or chocolate but I pretty much have given up having sweet stuff in the house. I think one of my favorite stress relieving foods is cereal with, you guessed it, goat milk.
Shelley has only contributed one blog post (with the recipe!) to FBR, but it's a great one!! As you can see, she loves her goats…and goat milk…and goat cheese!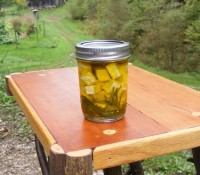 Marinated Feta from My Own Nigerian Dwarf Goats


Shelley blogs at Twiggity Dairy Goats and Twiggity Rusticks.

Do you have a recipe post or kitchen-related story to share on the Farm Bell blog?
See Farm Bell Blog Submissions for information, the latest blog contributor giveaway, and to submit a post.

Want to subscribe to the Farm Bell blog? Go here.
What can you enter to win this month? Click here.