I L-O-V-E chicken salad. I might eat it every day if it were up to me. Sadly, it's not up to me, so I don't. But, I do make it as often as I think I can get away with and chicken is on sale at the grocery store!
The Chickens of Podunk are mighty glad that I go to the grocery store for my chicken!
The secret to my chicken salad is I start with cream cheese. I'm a big fan of cream cheese, and the chicken sticks together better, too. No falling out of the bun here! Start with an 8-ounce block of softened cream cheese. I usually forget, but 30-45 seconds in the microwave will soften it right up.
Then the chicken. Recently, DD#1 and DD#3 went garage sale-ing with me. While we were gone, I had chicken breasts cooking in the crock pot on low (7-8 hours). When I got home, I put the chicken in the fridge to cool overnight. That makes whipping this together a 10-minute dish!
Remove the skin and the bones from the chicken breasts. You can certainly use boneless, skinless chicken breasts instead and skip this step, but that is almost always a lot more expensive so I remove the skin and bones myself.
Once you have removed the skin and the bones, dice into chunks. The size of the chunks are a personal preference. I like it chunky, so my chunks are about one inch.
Add chicken to the softened cream cheese. Then add about one teaspoon black pepper, one teaspoon seasoned salt, one-third cup diced celery, and one-third cup diced onions. I was out of celery and the last onion was sprouting (desperate need to go to grocery store) so you will not see these in my chicken salad. I may use this as an excuse to make it again!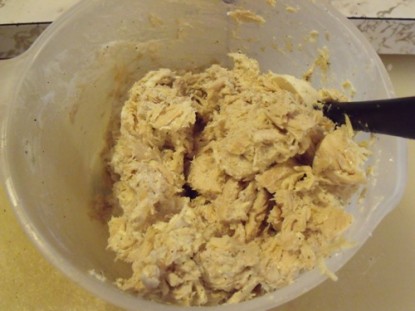 Stir well to combine. Now, here is where the two ways comes in. Put half of the chicken mixture into another bowl.
In one bowl, add about three tablespoons of hot sauce or wing sauce. We like Frank's Red Hot. Any brand will do. Feel free to add more if you like the heat. Stir well.
In the other bowl, add a heaping tablespoon (out of the silverware drawer, not the official measuring device) of mayo and a couple squirts of horseradish sauce. Then I stir with the tablespoon to combine.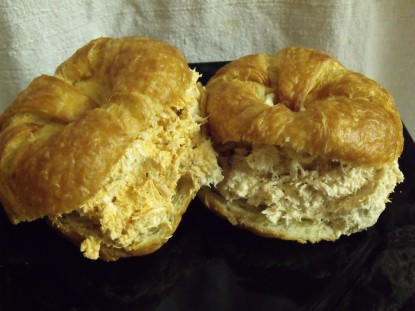 Serve on croissant rolls (our favorite) but any bread or bun will do. I serve the buffalo chicken salad with cheddar cheese and lettuce (here again…missing the lettuce… must go to grocery store) and sometime a squirt of Ranch dressing. I serve the plain chicken salad with a slice of Swiss cheese, lettuce, and sometimes a slice of tomato.
Yummy and versatile chicken salad!
Get the printable and save it to your recipe box:
Chicken Salad — Buffalo or Plain