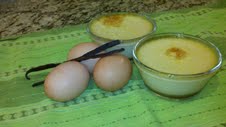 Difficulty: Easy
Servings: 6
Prep Time:
10 minutes
Cook Time:
20-30 minutes
Ingredients
5 large eggs
1/3 cup sugar
1 tsp. vanilla
1 large can of evaporated milk (12 ounces)
Additional milk 1-1/5 cups
8 Tbsp. brown sugar
Directions
Preheat oven to 350 degrees.
Place 6 (6 ounce) ramekins in a pan large enough to space them out so they don't touch.
Put 1 1/2 Tablespoons of brown sugar in the bottom of each ramekin and mash flat with the back of the spoon.
In a large measuring cup that holds at least 4 cups, crack all 5 eggs and add sugar and vanilla. Whisk for a minute until nicely mixed. Add canned milk. Top with additional milk until you have 4 cups of mixture.
Pour into each ramekin until almost to the rim.
Now wash out the measuring cup and fill it with hot water. Pour enough hot water into the pan until the water comes halfway up the sides of the ramekins.
Bake until the centers don't jiggle, about 20-30 minutes. Let cool on a rack, then refrigerate.
Categories: Appetizers & Snacks, Egg Dishes, Eggs, Kid-Friendly, Old-Fashioned, Puddings & Custards, Vegetarian
Submitted by: missdana on February 3, 2011