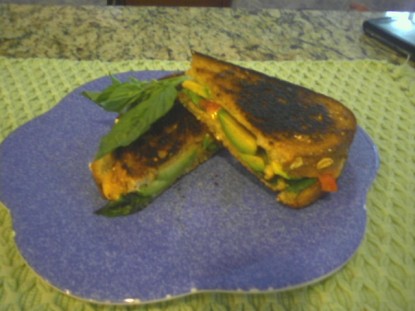 Difficulty: Easy
Servings: 1
Prep Time:
10 minutes
Cook Time:
5 minutes
Ingredients
2 slices of bread
2 Tbsp. olive oil
4 Basil leaves
2 slices of sharp cheddar cheese
4 thin slices of avocado
2 thin slices of tomato
Directions
Heat up a black iron skillet and drizzle in a Tbsp. of olive oil.
Stack the sandwich with one slice of cheese, basil leaves, avocado, tomato and second slice of cheese. Top with bread and heat on medium heat until nicely browned on bottom. Add the other tablespoon of oil to pan and turn sandwich to brown on other side.
Categories: Cheese, Kid-Friendly, Presentation, Sandwiches, Sourdough, Vegetarian
Submitted by: missdana on February 3, 2011