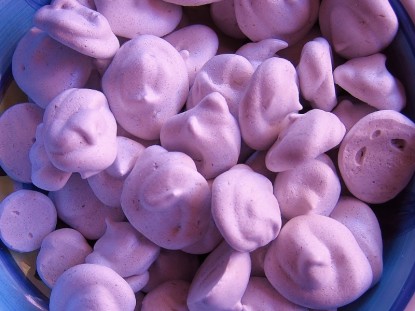 Difficulty: Easy
Prep Time:
15 min
Cook Time:
2 hours
Ingredients
1/4 cup lavender sugar
1/2 cup regular sugar
2 egg whites
A pinch of salt
A few dribbles of vanilla extract
Directions
Preheat oven to 200 degrees. Set oven racks so you can get in 2 cookie sheets at once.
Start whipping egg whites. Add salt and vanilla. Slowly add sugars, whipping all the while. Continue whipping mixture until stiff-ish.
Place mixture into quart-sized sandwich bag. Snip off corner of bag and pipe mixture onto cookie sheet lined with parchment paper or Silpat. Make cookies no larger than a quarter, otherwise you get gooey centers.
Bake at 200 degrees for 2 hours.
Categories: Cookies & Bars
Tags: flowers
Submitted by: laree on April 7, 2011