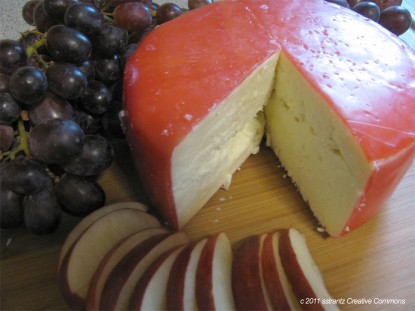 Difficulty: Intermediate
Servings: Approximately 2 lbs. Cheese
Prep Time:
About 3 Hours to Press Time
Cook Time:
Age: 3 Weeks
Ingredients
2 Gal. Whole Milk (I use unpasteurized)
1/4 tsp. Mesophillic Direct Set Culture (OR 4 T. mesophillic Mother Culture)
IF USING PASTEURIZED MILK: 1/8 tsp. Calcium Chloride Diluted in 1/4 C. Cool Water
1/2 tsp. Liquid Animal Rennet Diluted in 1/4 C. Cool Water
2 Tbsp Cheese Salt (or Non-iodized Salt)
Directions
Heat milk to 90 degrees F. using a pot resting in a hot-water bath. Add starter culture & stir for 1 minute. Cover & let rest for 30 minutes. (Keep temperature as close to 90 F. as possible during this time.)
If using, add diluted calcium chloride & stir for 1 minute.
Maintaining the temperature at 90 F., add the rennet to the milk & stir, using up & down motion, for 2 minutes. Cover & let set for 40 minutes at target temp or until a clean break is achieved.
Cut curds into 1/4" cubes keeping as uniform as possible.
While stirring, slowly raise temperature (by adding additional hot water to the bath) to 92 degrees F. TEMPERATURE SHOULD RISE SLOWLY – no more than 1 degree every 5 minutes. This should take 10 min.
Hold curds at 92 F. for 40 minutes, stirring frequently to keep curds from matting.
Let rest at target temperature for 5 minutes.
Drain curds into a cheesecloth-lined colander; let whey drain into a catch-bowl for a few minutes until the curds matte together.
Cut curds into 1" thick slabs and stack on top of one another. (I put these back into the (now) empty cheese pot in the water bath with the lid on. This helps keep the curds close to target temperature.)
In a 10 minute period of time, turn the stack over, top to bottom, 2 times.
Using your hands, break the curds into thumbnail size pieces & mix in salt.
Fill cheesecloth-lined mold with the salted curds. Cover curds w/cloth & press at 10 lbs. for 10 minutes.
*Remove cheese from press, unwrap, turn cheese & put a layer of salt on both top & bottom before re-wrapping with cheese cloth. (To accomplish this, I take a small amount of salt in my hand [approximately 1 tsp. per side] & rub it on top and bottom.) Press at 10 lbs. for 10 minutes.
*Repeat same procedure, pressing at 15 lbs. for 20 minutes.
*Repeat same procedure, pressing at 15 lbs. for 16 hours.
Remove cheese from mold & let air dry, turning at least 2x/day. This should take several days. When dry to touch, it's ready to be ripened.
The recipe doesn't call for waxing but I DO wax mine.
Ripen at 55 degrees F., 80-85% humidity, for 3 weeks. Turn cheese 2x/day first week & at least daily thereafter.
Categories: Dairy, Hard Cheeses, Homemade Cheese
Submitted by: sstrantz on April 6, 2011