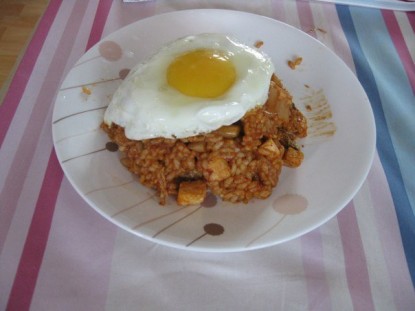 Difficulty: Easy
Servings: 1
Cook Time:
5 minutes
Ingredients
1 bowl of sticky white rice (Not like Uncle Ben's 10 minute rice. Korean style rice, sushi rice works ok if you rinse it a few times so it's not gluey.)
1 tbsp of gochujang (hot pepper paste, you can buy it at an Asian grocery store or online)
1 tsp sesame oil
1/2 can of Spam (leave out the Spam and add extra tofu to make it vegetarian)
1/4 cup cubed extra firm tofu
1 handful of kimchi cut into bite-sized pieces (Korean fermented cabbage, you can get it at Asian grocery stores or any hippie health food store)
Optional fried egg
Directions
Fry up the Spam and tofu in a saute pan, until they are lightly browned. Add the kimchi and stir for a few minutes. If you have any extra diced veggies you want to add, you add them here. Toss in the rice and mix it all up. Finally, add the spoonful of gochujang pepper paste and the sesame oil. Turn off the heat and stir it all up until all the rice is red. It's especially good if you fry up a sunny side egg and top it with the egg! Spicy and quick to make!
Categories: Beans, Grains & Rice, Main Dish
Submitted by: kimchigirl on May 19, 2010