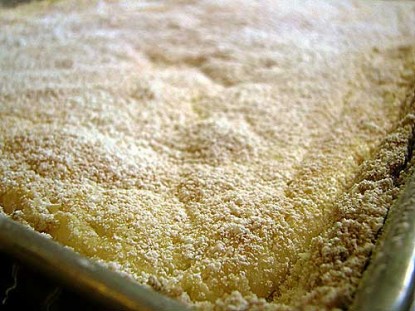 Difficulty: Easy
Servings: 8
Prep Time:
15 minutes
Cook Time:
25-35 minutes
Ingredients
FOR THE CRUST:
1 cup all-purpose flour
3 tablespoons granulated sugar
1/3 cup butter, softened
FOR THE FILLING:
1 1/4 cups granulated sugar
3/4 cup butter, softened
1 egg
1 cup all-purpose flour
2/3 cup evaporated milk
1/4 cup light corn syrup
1 teaspoon vanilla
powdered sugar
Directions
Preheat oven to 350-degrees. In a mixing bowl, combine the flour and sugar to prepare the crust. Cut in butter until mixture resembles fine crumbs and starts to cling together. Pat into the bottom and sides of a greased 9 x 9 pan.
To prepare the filling, beat the sugar and butter until light and fluffy. Mix in egg until combined. A bit at a time, alternately add the flour and evaporated milk, mixing after each addition. Add corn syrup and vanilla. Mix at medium speed until well blended.
Pour filling into crust-lined pan. Sprinkle with powdered sugar. Bake for 25 to 35 minutes or until cake is nearly set. Do not overcook. Let cool in pan.
Submitted by: suzanne-mcminn on April 4, 2011