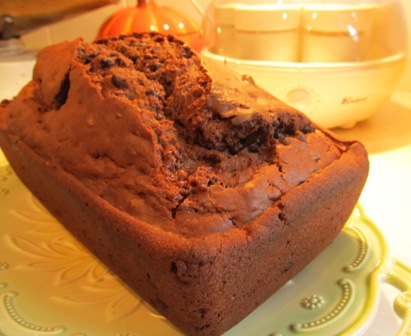 Difficulty: Easy
Servings: 1 large loaf or 5-6 small tea loaves
Ingredients
2 cups all-purpose flour
1/2 cup unsweetened cocoa
1 tsp espresso powder (optional but stellar!)
1 tsp baking soda
1/2 tsp salt
1/2 cup sugar
1/2 cup butter, chilled
1 cup mashed ripe bananas
5 ounces milk
2 eggs
1 tsp vanilla extract
1/2 cup mini chocolate chips
Directions
Grease the bottom of a 9×5-inch loaf pan.
In a separate mixing bowl combine the flour, cocoa, baking soda, sugar, and salt. Add butter in thin slices and run mixer on low speed until butter has cut evenly into the dry ingredients. This may also be done by hand, but discovered that cutting the butter in made a more tender bread vs creaming the butter with the sugar.
Mash bananas leaving a small bits (don't turn it into soup!). Mix bananas, milk, eggs, and extract thoroughly; add to dry ingredients and mix just until blended. Fold in chocolate chips.
Pour the batter into prepared pan. Bake in a 350º oven for 50 to 60 minutes. Cool in the pan for 5 minutes, then remove and cool completely.
Helpful hint: Rarely do I bake a single recipe as most soda breads easily double without problems. This double recipe will neatly fill 5 to 6 loaf pans, 3×5-1/2-inch, with a baking time of about 30 to 40 minutes. Fill the pans and set them on a large cookie sheet to slip easily in and out of the oven. I like this size as they're easy to wrap 'n freeze, partially thaw later and perfectly slice without excess crumbing. Good portion control too, as this bread is difficult to NOT sneak another slice every time you pass through the kitchen. A thick slice topped with ice cream and nuts is quite luscious as well!
Categories: Breads, Cakes, Desserts, Fruit Breads, Gift Basket Goodies
Submitted by: ruthmarie on December 2, 2011