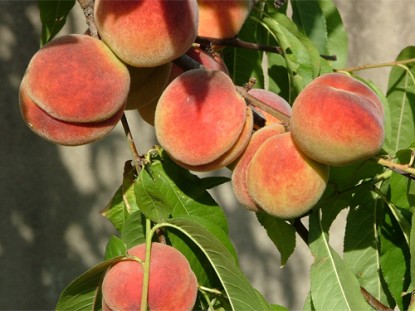 I steam-juiced some very small peaches from a neighbor's tree a few weeks ago. The juice was beautiful and I canned some as is and some as peach jelly. I had the peach pulp left and couldn't bear to toss it – what to do, what to do?
Then I remembered that I had a Peach Honey recipe that I had never tried. Some searching turned up the recipe – and it was a perfect fit.
This could also be considered a 'butter' but I just like the 'honey' part of the name much better!
I easily plucked the pits from the pulp. There wasn't a lot of pulp.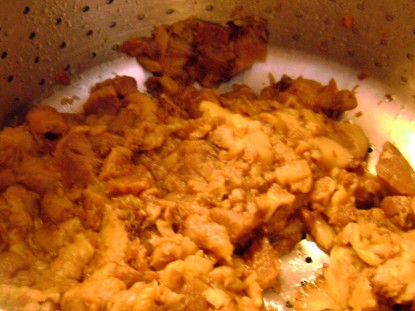 So rather than use the full scale food strainer, I ran the pulp through the hand-cranked baby food grinder. Measured four cups of pulp and I was in business.
The original recipe for Peach Honey:
Peaches, ripe
Light brown sugar
Peel peaches, discarding pits. Mash fruit thoroughly. Measure. Add 1-3/4 cups light brown sugar, packed down, to each 2 cups of peach pulp. Set over very low heat until sugar has dissolved and peaches have released some of their juice. Bring to boiling, then reduce heat and let simmer, stirring very frequently to prevent scorching, for about 30 minutes, or until mixture is thick and clear. Seal in hot sterilized jars. Superb with biscuits, pancakes, waffles, and such.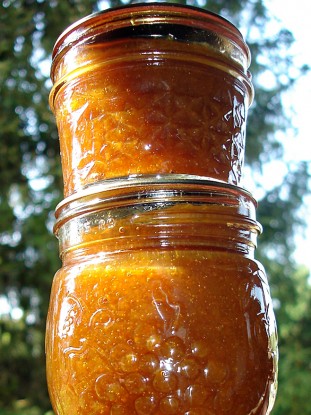 After my changes, How to make Ginger Peach Honey:
Run steam-juiced peaches through a food strainer after removing the pits from the pulp. Measure the resulting peach pulp.
For each 2 cups of pulp, add 1 3/4 cups light brown sugar and mix well. I had 4 cups of pulp, so I doubled this recipe.
Pour pulp and sugar mixture into a lightly oiled slow cooker.
Vent the lid (I used a wooden spoon handle) and cook the mixture on low, stirring occasionally, until it has thickened to your satisfaction and is somewhat translucent. Stir in 1/2 teaspoon ground ginger for each two cups of pulp that you started with. Taste and add more if you prefer.
Ladle into hot 8 ounce jars, debubble. Cap and process in a boiling water bath for 15 minutes.
Four cups pulp made with this recipe yielded 5 half-pints + a little for the cook!
YUM!
Get the handy print page and save this to your recipe box here:
Ginger Peach Honey.
You can also find Dede at Yahoo's Canning2.

Interested in contributing a guest post to the Farm Bell blog? Read information here for Farm Bell blog submissions.

Want to subscribe to the Farm Bell blog? Go here.