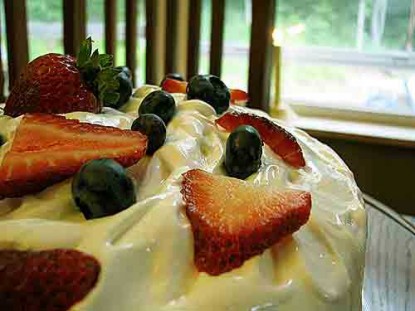 Difficulty: Easy
Servings: 12
Prep Time:
15 minutes
Cook Time:
25 minutes
Ingredients
2 1/2 cups all-purpose flour
2 cups sugar
1 teaspoon baking powder
1/2 teaspoon baking soda
1/8 teaspoon salt
1 1/3 cups milk
1/2 cup shortening
1 teaspoon vanilla
4 egg whites
Directions
Combine flour, sugar, baking powder, baking soda, and salt. Add milk, shortening, and vanilla. Beat with an electric mixer on low till combined, then for 2 more minutes on high. Add egg whites; beat 2 more minutes (on high). Don't skimp on the beating–it whips air into the batter and makes a light cake! Pour into 2 greased round cake pans and bake at 350-degrees for about 25 minutes. Cool on wire racks.
Submitted by: suzanne-mcminn on April 4, 2011