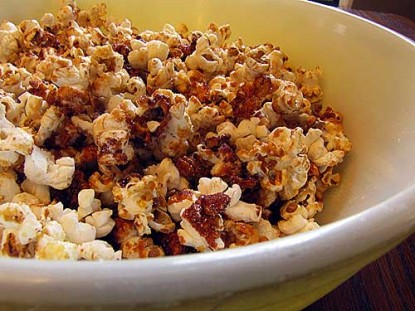 Difficulty: Easy
Cook Time:
a few minutes
Ingredients
2 tablespoons white sugar
2 tablespoons oil
1/4 cup unpopped popcorn
salt
Directions
It is supposed to be made in a heavy pan. I use my 3-quart Revere pot with a tight fitting lid.
Measure sugar and set aside.
Measure oil into the pot and heat over a good medium-high flame (but not high enough to really burn it).
Measure unpopped popcorn.
Put 2 or 3 kernels into the oil and when they pop, quickly add the white sugar and the rest of the popcorn.
Don't stir it, but put the cover on and keep shaking the pot over the flame till it has all stopped popping.
Quickly pour into a bowl and sprinkle liberally with salt, tossing it to distribute the salt evenly.
It will cool quickly and has a light sugary-salty flavor, with burnt sugar pieces in it that are delishious!!!
Editor's Note: If you have a sweet tooth, try it with extra sugar sprinkled on top, too!
Categories: Appetizers & Snacks
Submitted by: drucillajoy on August 8, 2010