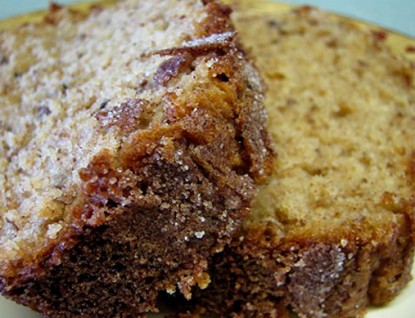 Difficulty: Easy
Servings: 2 loaves
Prep Time:
10 days
Cook Time:
1 hour
Ingredients
Amish Friendship Bread Starter from a friend or Start Your Own
Directions
Day 1: Do nothing.
Day 2 – 5: Mash the bag once a day.
Day 6: Add to the bag – 1 cup flour, 1 cup sugar, and 1 cup milk. Mash the bag.
Day 7 – 9: Mash the bag once a day.
Day 10: Follow the directions below:
Pour the entire contents of the bag into a non-metal bowl. Add 1 1/2 cups sugar, 1 1/2 cups of flour and 1 1/2 cups milk. Combine mixture. Measure out 4 separate batters of 1 cup each into four gallon-sized Ziploc bags. Keep starter for yourself and give another to 3 friends along with a copy of this recipe.
Note: If you keep a starter, you will be baking bread every 10 days. The bread is very good and makes a great gift. Should this recipe not be passed on to a friend on the first day, be sure to tell the friend which day the bag is at when you present it to them.
Note: You can freeze the starter you keep for yourself. When you pull it from the freezer, thaw, and start with Day 1.
Baking instructions:
1. Preheat oven to 325 degrees.
2. To the remaining batter in the bowl, add:
3 eggs
1 cup oil
1/2 cup milk
1 cup sugar
2 cups self-rising flour (see note below for using all-purpose flour)
2 tsp cinnamon
1 large box vanilla instant pudding (fat free and sugar free work well also)
1 cup raisins and/or chopped nuts, optional
1/2 – 1 tsp vanilla extract
If you are using all purpose flour, then add:
1 1/2 tsp baking powder
1/2 tsp salt
1/2 tsp baking soda
3. Grease or butter 2 large loaf pans (9×13 cake pan also works well). In a bowl mix an additional 1/2 cup sugar and 1 1/2 tsp cinnamon. Dust the greased pans with 1/2 mixture.
4. Pour batter evenly into pans. Sprinkle rest of the sugar mixture on top.
5. Bake for 1 hour. Cool until bread loosens evenly from sides of the pans. Turn onto plate and enjoy!
Other variations include:
Lemon pudding mix and white chocolate chips.
Chocolate pudding, chocolate chips and nuts.
Categories: Breads, Other Breads
Submitted by: kentuckyfarmgirl on June 1, 2010