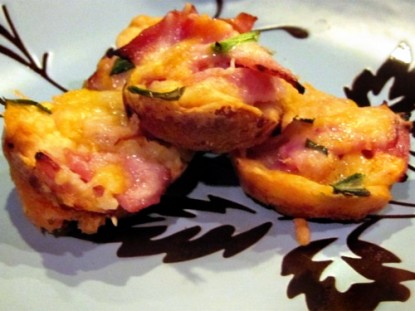 Difficulty: Easy
Ingredients
1 can crescent roll dough
ham slices
shredded cheese
green onions, chopped
Directions
Pre-heat oven according to directions.
Liberally spray a muffin pan with non-stick spray. Press enough dough into pan to cover the bottom. I used a mini-muffin pan.
Roll up some slices of ham. Cut into swirls with knife or pair of kitchen scissors.
Sprinkle with cheese, top with slices of green onion, and bake. I needed to add 3 minutes to the directions' baking time.
If you let these cool a little, they are easier to pull up. Good piping hot, room temp, or cold.
Categories: Appetizers & Snacks
Submitted by: laree on December 28, 2010