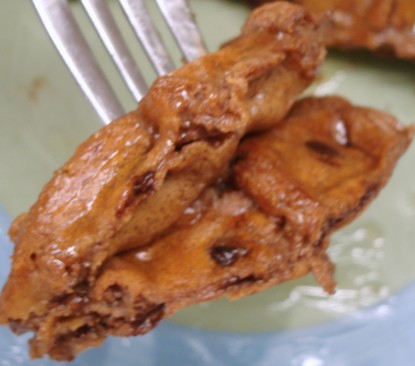 Difficulty: Easy
Servings: 4-8
Prep Time:
5 minutes
Cook Time:
20 minutes
Ingredients
1 1/2 cups all-purpose flour
3T sugar
1/2 cup cocoa powder
1 tsp baking powder
1/2 tsp salt
1/2 tsp baking soda
3 whole eggs, beaten
1/4 cup oil
1 tsp vanilla
2 cups buttermilk (don't substitute!!!!)
3/4 cup semi-sweet chocolate chips
waffle iron
Directions
1. Preheat your waffle iron. I turn on mine before I even start making the waffles,
so that it is piping hot and ready to go after the waffle batter rests.
2. In a medium bowl, whisk together the flour, sugar,
cocoa powder, baking powder, salt, and baking soda.
3. In another bowl, beat the eggs together
with the oil and vanilla and then add the buttermilk.
4. Make a well in the center of the dry mix and add the wet.
5.Let the batter rest for five minutes.
6. I use a 1/3 cup measuring cup to add the batter to the waffler maker.
7. Let them cook for five minutes.
8. Now add butter, syrup, jam, even peanut butter!
Categories: Breads, Breakfast, Kid-Friendly
Submitted by: sunshinemom on August 18, 2010