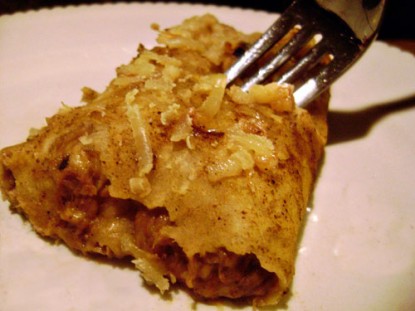 Difficulty: Intermediate
Servings: 12 enchiladas
Cook Time:
20-30 min
Ingredients
Meat of your choice  (browned and drained burger, shredded beef, shredded chicken, shredded pork), about 2 cups cooked if using refried beans or about 4 cups without beans
4 cups Enchilada Sauce (or 2 cans)
2 cups shredded cheese of your choice (cheddar or pepper jack are good choices)
2 cups Refried Beans (or 1 can), optional
12 Flour Tortillas (homemade or from the store)
Directions
Filling:
Heat refried beans if using. Add cooked meat to the beans. Stir in 2 cups (or 1 can) of the enchilada sauce. Mix in 1 cup of the shredded cheese until melted. Turn off heat; set aside.
Assembly:
Step 1 – With the remaining 2 cups (or 1 can) of Enchilada Sauce in a shallow pan or bowl, dip Tortilla Shell in the Enchilada Sauce, both sides, and put on a dinner-size plate.
Step 2 – Spread a couple spoonfuls of Bean & Meat mixture over Tortilla Shell, leaving at least an inch at the top side. Sprinkle a little cheese on top.
Step 3 – Beginning at the bottom, roll up to the top, place in a sprayed pan. I use my big lasagna pan. You could use 2 smaller ones.
Step 4 – Sprinkle remaining cheese on top. If you have any remaining enchilada sauce, you can pour it into the pan, though I don't usually have any left. Place into a 350 degree oven and bake until cheese is melted, about 20-30 minutes.
Categories: Beans, Beans, Grains & Rice, Beef, Casserole, Leftovers, One Dish Meal, Poultry, Tortillas & Pitas
Tags: Mexican
Submitted by: cindyp on June 16, 2010