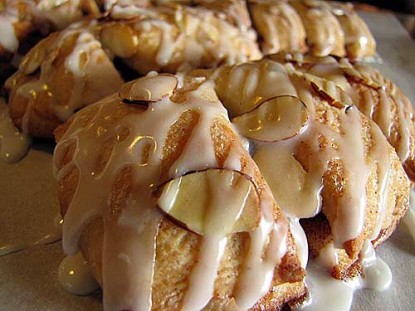 Difficulty: Intermediate
Servings: 1 dozen
Prep Time:
several hours, divided
Cook Time:
20-25 minutes
Ingredients
1 recipe Grandmother Bread for Pastries, ready for use
3 tablespoons butter, melted
1/2 cup sugar
2 teaspoons cinnamon
additional melted butter for brushing
slivered almonds*
powdered sugar icing
Directions
*You could use chopped pecans or walnuts as well, or no nuts at all.
Find the Grandmother Bread for Pastries recipe here.
Divide chilled Grandmother Bread for Pastries dough in half. On a floured surface, roll each portion into a 10-inch square. Brush each square with half of the melted butter. Combine cinnamon and sugar in a small bowl; sprinkle half of the cinnamon-sugar filling on each pastry square.
Cut each square in half to make two strips. Fold each strip together lengthwise; seal edges and ends. Cut into three pieces and seal new cut edges. Make four cuts on each piece to within a half-inch to an inch of the folded edge. (Cut from the sealed edge, not the folded edge.) Place on greased baking sheets. Cover and let rise until doubled. Brush each piece with additional melted butter. Sprinkle with slivered almonds. Bake at 350-degrees for 20-25 minutes. Cool on a wire rack. Drizzle with powdered sugar icing.
Powdered Sugar Icing:
Combine 1 cup sifted powdered sugar, 1/2 teaspoon vanilla or almond extract, and enough milk (two to four teaspoons) for drizzling consistency.
Categories: Breads, Breakfast, Entertaining, Holiday, Pastries, Yeast Breads
Submitted by: suzanne-mcminn on December 21, 2011