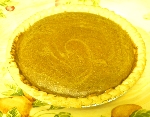 Difficulty: Easy
Servings: 16 slices
Prep Time:
15 - 20 minutes
Cook Time:
55 - 60 minutes
Ingredients
1 (15-oz.) can Libby's Pure Pumpkin (NOT Pumpkin Pie mix!)
1 ¾ c. sugar
5 eggs, slightly beaten
1 (12-oz.) can Carnation evaporated milk
¼ c. half and half
1 tsp. salt
1 tsp. ginger
3 tsp. cinnamon
1 tsp. cloves
½ tsp. nutmeg
2 tsp. vanilla
2 frozen deep dish pie crusts, thawed
Directions
Preheat oven to 425 degrees.
Combine pumpkin, sugar, salt, vanilla and spices. Add eggs, evaporated milk and half and half. Mix well using mixer on low to medium speed. Pour into 2 unbaked deep dish pie crusts.
Bake 15 minutes at 425 degrees, then turn oven down to 350 degrees and continue baking for 40 to 45 minutes. Watch your pie during the last 10 minutes of baking. Ovens vary, so your pie might take a little less or a little more baking. A knife inserted near the center of the pie that comes out clean indicates the pie is ready!
Categories: Crowd-Size, Desserts, Holiday, Pies
Tags: Southern, Thanksgiving
Submitted by: sobelle on November 23, 2010