These are wild choke cherries, also called "pin cherries" by some. They are very bitter, but as with most of the small wild fruits, such as crab apples, they have a lot more flavour than their domesticated cousins do. The secret is to use the clear juice alone and NONE of the pulp, and more sugar, of course. Drain the cooked fruit in a bag and do not squeeze it.
The choke cherry tree is a nice addition to the flower garden, too, as long as you are going to pick the fruit when it is ripe. If you leave it to just fall to the ground, it will make a mess and reseed in the garden.
The tree is small, not getting above about 8′-10′ tall, and flowers in the spring. It is really a nice little flowering tree for landscaping with the added benefit of bearing fruit!
We have several of these small trees growing wild on the property. This fall, when they are dormant, I will move one to the new, expanded section of the ornamental garden where it can provide a little shade for a nearby bench.
I have my recipes all ready to make jelly and possibly wine from the fruits. I make wine from everything! I am always looking for unique wine possibilities. (I started a one gallon batch of chocolate mint wine this morning!)
How to make Choke Cherry Jelly:
Add 5 cups (1250 mL) water to 10 cups (2.5 L) berries and simmer 15 minutes.
Crush fruit with potato masher as it softens. Drain through a moistened jelly bag. DO NOT SQUEEZE THE BAG!! The clear juice makes excellent jelly. If you squeeze pulp into the mix, it will be bitter! (If the juice is to be used for jelly, choose berries that are under ripe as well as ripe, so the pectin content of the juice is higher.)
Combine 3 1/4 cups choke cherry juice and 1 package pectin in a large saucepan. Bring to a full rolling boil. Add 4 1/2 cups sugar. Boil hard one minute, stirring constantly.
Remove from heat. Skim off foam. Pour into sterilized jars. Leave 1/2 inch (1 cm) headspace. Clean jar rims. Seal. Process 5 minutes in a boiling water bath.


Get the handy print page and save this to your recipe box here: Choke Cherry Jelly.
How to make Choke Cherry Wine–1 gallon: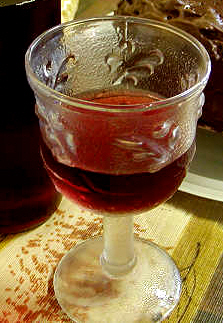 Use only sound ripe fruit and remove stems and leaves. Crush 3 pounds cherries, but do not break pits and put into straining bag. Put bag of crushed fruit into large pot and cover with 1 gallon of water. Bring to a boil, cover and remove from heat. Let sit, covered for 24-48 hours.
Next day, lift straining bag and drain well. DO NOT SQEEZE BAG! Only the clear juice is to be used!
Pour juice into primary fermentor and add 1 pound chopped raisins (optional), 3 pounds sugar, 1 level teaspoon yeast nutrient, 1/2 teaspoon pectic enzyme powder and 1 level teaspoon wine yeast. Stir well to dissolve sugar.
Stir daily. Ferment for 5-6 days, or until specific gravity is 1.040. Siphon into a one gallon glass jug or carboy. Attach fermentation locks.
Rack in 3 weeks and again in 3 months. When wine is clear and stable, bottle. Age 1 year.


Get the handy print page and save this to your recipe box here: Choke Cherry Wine–1 gallon.
Hope you enjoy both! I will!


Sheryl – Runningtrails blogs at Providence Acres Farm.

Do you have a recipe post or kitchen-related story to share on the Farm Bell blog?
See Farm Bell Blog Submissions for information, the latest blog contributor giveaway, and to submit a post.

Want to subscribe to the Farm Bell blog? Go here.
What can you enter to win this month? Click here.