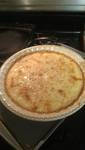 Difficulty: Easy
Servings: about 4
Prep Time:
20-25 min
Cook Time:
@ 25-30 minutes
Ingredients
3 eggs
1/3 cup plus 1 tbsp sugar
1/8 tsp salt
1/2 tsp vanilla
2 cups milk (scalded)
Nutmeg to taste
Directions
Place two cups of milk into a pan and heat just until a skin forms on top. Set aside. Beat the first four ingredients together then add the scalded milk, tempering the eggs first. To temper eggs, add a little of the egg mixture slowly to the hot milk, stirring constantly. Then slowly add the milk back to the remainder of the egg mixture. Pour into a casserole dish or pie pan. Sprinkle nutmeg on top to taste. Set pan into another larger dish with water in it (a cookie sheet with a lip is fine). Bake at 325 degrees. Center should still be a little soft when done. It will set as it cools.
Categories: Dairy, Desserts, Eggs, Puddings & Custards
Tags: Southern
Submitted by: lesliedgray on January 11, 2013