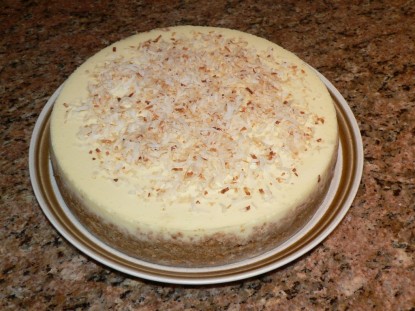 Difficulty: Intermediate
Servings: varies
Prep Time:
40 minutes
Cook Time:
65 minutes
Ingredients
For the Coconut Crust:
1-1/4c graham cracker crumbs (I put about 8 full graham crackers into a gallon-size zip bag and roll over them repeatedly with a rolling pin)
4T sugar
1/2c shredded sweetened coconut
5T butter, melted
For the Filling:
1-1/2lb (3 packages) cream cheese, softened
1c sugar
1T cornstarch
1t vanilla bean paste (or the same amount of vanilla extract)
1/4t salt
3 large eggs, lightly beaten
7oz coconut milk (Not Coco Lopez)
1 teaspoon coconut extract (optional)
For Topping:
3T toasted coconut (I toast my shredded coconut in a small frying pan over medium heat, stirring often, until golden)
Directions
For the Crust:
Preheat the oven to 350. Butter a 9″ springform pan.
If you are worried that your springform pan may not be completely watertight, place a layer of aluminum foil on the outside of the pan bottom and up the sides. Set aside.
In a medium bowl, combine the graham cracker crumbs, granulated sugar and shredded coconut. Stir to combine. Add the melted butter, and mix together until well blended.
Pour the graham cracker mixture into the springform pan, and using your hands, press firmly into the pan and up the sides. The crust does not come all the way up the sides, only about halfway.
Bake crust at 350 degrees for 14 minutes, or until light golden brown. Remove from oven and allow to cool.
For the Filling:
Lower the oven temp to 325.
In the bowl of a stand mixer with the paddle attachment, beat the cream cheese until smooth, scraping sides and bottom of bowl often.
Add the sugar, cornstarch, vanilla bean paste (or extract, if using) and salt. Beat until smooth and combined.
Slowly add the beaten eggs to the bowl, adding about a tablespoon or so at a time and mixing well between each addition.
Add the coconut milk and coconut extract, if using, and beat until combined.
Place the springform pan with the cooled coconut crust into a large roasting pan.
Pour the cheesecake filling into the springform pan.
Place the roasting pan on the center rack of the oven, and add hot water to the roasting pan until it reaches about halfway up the sides of the springform pan.
Bake the cheesecake for 65-75 minutes, or until the filling is set and only slightly jiggly in the center.
Carefully remove the roasting pan from the oven, being careful not to slosh the hot water, and then remove the springform pan. Allow the cheesecake to cool to room temperature, then refrigerate 8 hours before removing from the springform pan. Sprinkle toasted coconut all over the top prior to serving.
Categories: Cheese, Cheesecakes, Desserts, Entertaining, Presentation, Soft Cheeses
Submitted by: squeegee1 on March 14, 2013