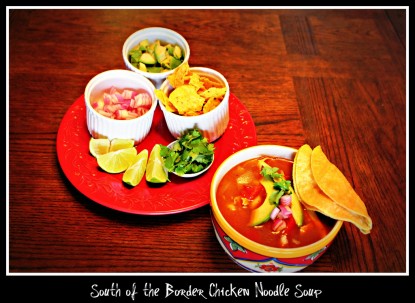 Difficulty: Easy
Servings: 6-8
Prep Time:
15 minutes
Cook Time:
40 minutes
Ingredients
One whole chicken
1 Tbsp. Kosher salt
3 stocks celery, chopped
1 lg. onion, chopped
3 cloves of garlic, minced
2 Tbsp. Olive oil
1 1/2 Tbsp. cumin
1 Tbsp. chili powder
1/2 tsp. ground black pepper
1 tsp. seasoned salt
8 cups water
7 tsp. Knorr tomato bouillon w/ chicken flavor
1 (14 oz.) can white kidney beans
1( 14 oz.) can stewed tomatoes
1 (14 oz.) can hominy
3 cups dried homemade style egg noodles
Garnish:
1 avocado, chopped
1/4 cup minced cilantro
1/2 cup red onion, chopped
Tortilla chips
Directions
In a large stockpot cover chicken with water, add salt and boil for 20 min. Periodically skim foam from top and discard.
In a medium frying pan, saute onion, celery, jalapeno, and garlic for 2-4 min.
Pour chicken and liquid into strainer, reserving liquid in a separate bowl. Remove skin from chicken and allow to cool.
Pour water, reserved liquid, and bouillon into stockpot with celery, onion, and garlic. Pull chicken from carcass, tear into bite-sized pieces and add to the pot. Add Cumin, chili powder, pepper, seasoned salt, white kidney beans, stewed tomatoes, and hominy. Bring to a boil.
Add noodles and cook for 5 minutes. Remove from heat, cover for 5 minutes.
Garnish and serve!
Categories: Budget, Main Dish, Poultry, Soups & Stews
Submitted by: mattnmarci on January 10, 2011