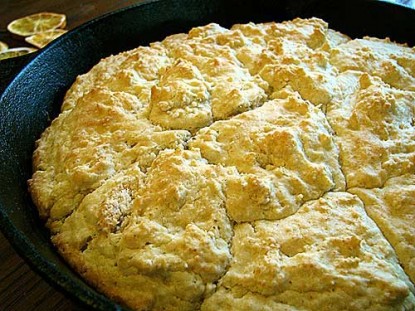 Difficulty: Easy
Servings: 1 dozen
Prep Time:
10 minutes
Cook Time:
15-20 minutes
Ingredients
2 cups all-purpose flour
2 teaspoons baking powder
2 tablespoons sugar
1/2 teaspoon cream of tartar
1/2 teaspoon salt
1/2 cup shortening, lard, or (softened) butter
1 1/3 cups milk
Directions
This is a Quick Mix recipe.
Note: To use a baking mix, replace first 5 ingredients with 2 cups baking mix.
Place first 5 ingredients (or 2 cups baking mix) in a large bowl and work in the shortening, lard, or butter with a pastry cutter then pour in the milk. Drop biscuits are all about the extra milk! Spoon biscuit dough into a lightly greased pan or onto a baking sheet. Bake at 450 degrees for 15-20 minutes. These biscuits are moist, so they take a little longer to bake. Your actual bake time will vary depending on the size you make your biscuits and even the type of pan used. Always keep an eye on biscuits while they're baking!
Submitted by: suzanne-mcminn on April 6, 2011