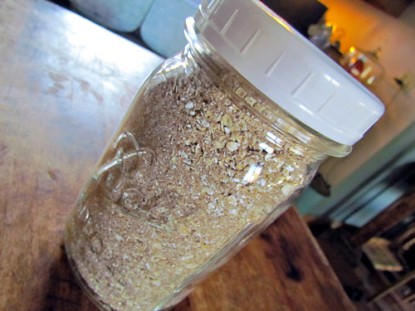 Difficulty: Easy
Servings: equal to 16 packets
Prep Time:
5 min
Ingredients
1 1/2 cups brown sugar
1 Tbsp vanilla
2 tsp cinnamon
1 tsp nutmeg
1/2 tsp cloves
1/2 tsp allspice
4 cups instant oats
Directions
Mix brown sugar, vanilla, cinnamon, nutmeg, cloves, and allspice together in a bowl.
Grind 2 cups quick oats. I used my spice grinder in 1/2 cup intervals.
Mix the 2 cups ground oats and 2 cups quick whole oats in with the brown sugar mixture.
To make a bowl of oatmeal:
Use 1/3 cup flavored instant oatmeal with 1/2 – 2/3 cup hot milk or water. This, of course, is your preference, depending on how you like it. I mix the 2 together and put in the microwave for 90 seconds.
Add in some dried or fresh apples or bananas if you'd like. Or some raisins! Or some jam! Now, it's all up to you what flavor oatmeal you have.
Categories: Breakfast, Cereals, Ingredients & Mixes
Submitted by: cindyp on October 16, 2011