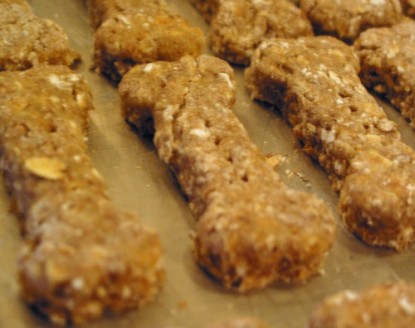 Difficulty: Easy
Servings: 7 dozen treats for 1 recipe of mix
Prep Time:
10 minutes
Cook Time:
30 minutes
Ingredients
Dry mix:
5 cups rye flour
4 cups all-purpose flour
5 cups wheat flour
2 cups bulgur wheat
3 cups rolled oats
1/2 cup chicken or beef boullion granules (optional)
1 1/2 cup dry milk powder
Ingredients for preparing the treats:
2 beaten eggs
1 cup+ water or bouillon
6 cups dry mix
Optional add-ins:
bacon bits
salmon or tuna, drained and flaked
mashed sweet potato or regular potato
1/2 cup peanut butter
crumbled or shredded cheddar cheese or cheese-flavored powder
Directions
To make mix: Mix all dry ingredients together and store in an air-tight container in a cool place.
To make the treats:
Preheat oven to 400 degrees Fahrenheit
Use 6 cups of the mix, 1 cup of water or bouillon and two beaten eggs and any optional ingredients. Mix together until a somewhat stiff dough forms. Add water a tablespoon at a time if you want it wetter, but don't get it too wet. You want to keep it as dry as possible without it being crumbly.
Pat out and then roll dough to 1/2 to 1/3 inch thick. Cut with pizza cutter or cookie cutters. Place close together on a baking sheet, no spray or parchment necessary. Poke each one with a fork. Bake for 30 minutes. After 30 minutes, check dryness level. If the biscuits are cracker-hard, you're done and can remove them. If they give a little bit, turn the oven off and leave them there while the oven cools.
When baked, remove from pan and cool thoroughly before storing them in an air-tight container. Makes at least 7 dozen 1″ x 2″ treats.
Categories: Pets
Submitted by: murphala on January 31, 2012