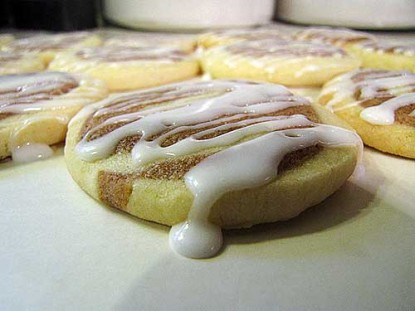 Difficulty: Easy
Servings: 3-4 dozen
Prep Time:
20 minutes, divided
Cook Time:
6-8 minutes
Ingredients
1 1/2 cups butter, softened
2 cups sugar
4 eggs
1 teaspoon vanilla
4 1/2 cups all-purpose flour
2 teaspoons baking powder
dash of salt
1 cup brown sugar
1 tablespoon ground cinnamon
Directions
Cream butter and sugar. Add eggs and vanilla; blend. Mix in flour, baking powder, and salt. Divide dough in half. Set aside one half, leaving the other half in the mixing bowl. Add the brown sugar and cinnamon to the bowl. Mix with an electric mixer until the brown sugar and cinnamon is completely incorporated. Wrap each half separately and chill for at least an hour.
Remove the dough from the fridge and divide each half into two more halves so that you have two parts plain dough and two parts brown sugar/cinnamon dough.
Roll the first plain half into an 8-inch by 8-inch square on a lightly floured surface. Roll the first brown sugar/cinnamon half the same way. Transfer the brown sugar/cinnamon dough over top of the plain dough square. Lightly roll to press the two pieces together then roll it up.
Repeat with the second plain half and the second brown sugar/cinnamon half to make two rolls of dough. Wrap and place rolls in the freezer until very firm (which makes slicing easier without mangling the dough). You can leave it in the freezer for 30 minutes or leave it in the freezer for a month–up to you! This is a good make-ahead recipe if you want it to be.
When you're ready to bake, take the frozen dough from the freezer and let sit at room temp for a few minutes, just to soften enough to slice–but not get too soft. Preheat oven to 400-degrees.
Slice the dough into cookies and place on greased baking sheets. Bake for 6-8 minutes. Let cool completely before icing.
Powdered Sugar Icing:
Combine 1 cup sifted powdered sugar, 1/2 teaspoon vanilla, and enough milk (about three to four teaspoons) for drizzling consistency. Drizzle decadently over cookies.
Categories: Cookies & Bars, Desserts, Kid-Friendly
Submitted by: suzanne-mcminn on January 30, 2012