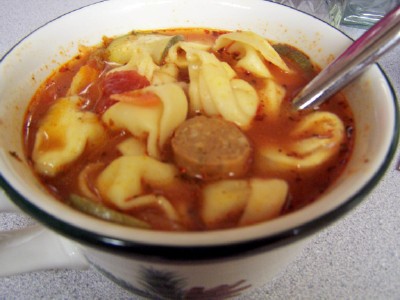 Difficulty: Easy
Servings: 6
Prep Time:
20 minutes
Cook Time:
7 or 8 hours
Ingredients
1 lb. Italian pork sausage links, browned and thinly sliced (I usually place these in a skillet with water and boil them until they are done, which helps cut down on the grease; then I cool them, slice them, and brown them along with the onion in the skillet)
1 medium onion, chopped
1 or 2 carrots, peeled and chopped
2 cups of tomatoes, diced (you can use a can of tomatoes if you don't have fresh)
2- 14 oz. cans of vegetable broth (or you can use beef or chicken broth)
14 oz. can/jar of pizza sauce
2 cups of water
1 bay leaf
1 or 2 small zucchini, sliced or shredded (I like chunkier, so we slice)
9-oz. package of refrigerated cheese tortellini (left uncooked)
Parmesan cheese, fresh or sprinkle, for flavor and garnish
Directions
Add everything to the crock pot except for the zucchini, tortellini, and cheese. Cover and cook on low for 5 to 7 hours. About an hour before you want to eat dinner, add the zucchini and tortellini, then let it cook one more hour. (Discard the bay leaf.)
Ladle into soup bowls, and garnish/flavor with parmesan cheese.
Categories: Crock Pot, Main Dish, Other Soups & Stews, Pasta, Soups & Stews
Tags: Italian, sausage, soup, stew, zucchini
Submitted by: kathleennoland on February 20, 2012