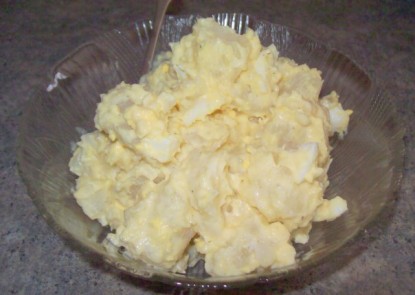 Difficulty: Easy
Servings: Not quite sure...maybe 8 cups
Cook Time:
Approx. 30 mins. for potatoes/10 mins. for eggs
Ingredients
Ingredients:
4 eggs
8 medium-sized russet potatoes
1/4 small sweet onion (if you like onion)
1/2 cup mayonnaise (or substitute vegan mayonnaise) I use Miracle Whip Light
4 Tablespoons mustard (preferably yellow, but brown will work) I use French's Mustard Regular Flavor
Black pepper and salt to taste
**Some people put celery, pickles and pickle juice, paprika, and/or tomatoes in their recipe also.
**These are approx. measurements as I do not measure anything on this recipe.
Directions
1). Hard boil the eggs. (Put eggs in a pot, covered in water, and bring to a boil. Boil for 10 minutes, then drain and let cool in cold water.)
2). Wash the russet potatoes. Next, put them in a large pot, cover them in water, and then boil them until soft and tender (a fork will sink all the way through one with no resistance). When the potatoes are done, drain them well. Transfer to a large bowl, and set aside to cool and then peel and cube them!
3). Meanwhile, once the eggs are cool enough to handle, shell and rinse them. Dice them up and add them to the potatoes in the bowl.
4). Dice the onion and add them to the bowl. (If you like onion)
5). Add the mayonnaise and mustard. Mix until well-blended. Add black pepper and salt to taste.
6). Chill for an hour in the refrigerator. Serve as a side. Enjoy!
Categories: Potato Salads, Potatoes, Salads, Side Dishes
Tags: Summer
Submitted by: nataliecyphers on May 1, 2010