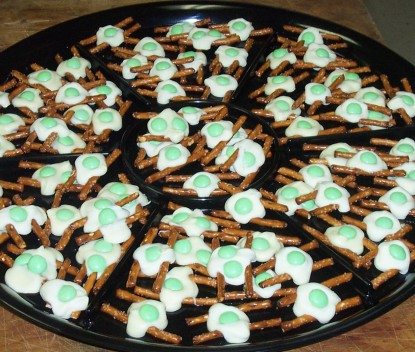 Difficulty: Easy
Servings: many
Ingredients
small thin pretzel sticks
white chocolate or vanilla molding wafers
round candy coated chocolate pieces – Green!
waxed paper or plastic wrap
Directions
Cover a cookie sheet with waxed paper or plastic wrap.
Lay out pretzel sticks in pairs with about 3/8″ space between the pretzels in each pair.
Melt white coating in microwave or in double boiler as per manufacturer's recommendation.
Carefully spoon a small puddle of white coating across each pair of pretzels (to resemble an egg white in a fried egg).
Before white coating begins to 'set-up', place a green candy piece (or two) in the middle of the coating (to resemble the egg yolk).
Refrigerate briefly to harden white coating.
Find lots of little friends to share with!
Categories: Appetizers & Snacks, Candy
Submitted by: wvhomecanner on April 29, 2010