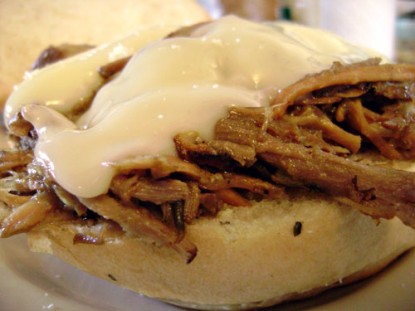 Difficulty: Easy
Servings: 6 - 8
Prep Time:
15 min
Cook Time:
8 - 9 hours on Low
Ingredients
3 pound pork roast
Rhubarb Sauce:
2 cups diced rhubarb (I use food processor)
1 tsp rosemary, crushed
6 Tbsp Worcestershire sauce
6 Tbsp honey
1 tsp garlic powder
Directions
In a heavy pan, sear both side of pork roast in a little butter or oil. Put in crock pot, cover, and turn on high.
In the same pot, add the Rhubarb Sauce ingredients. Bring to a boil, turn heat down, and simmer for 10 min.
Pour over pork roast, return cover, and cook on low for 8-9 hours or on high 4-5 hours or until it is falling apart.
Pull the pork out onto a plate. Using two knives, pull all pieces apart.
Remove some of the fat from the juices that are in the crock pot if you wish. Return the pork to the crock pot, stir, and leaving cover off, turn heat on high for about 20 minutes or until most of the juice has been soaked up.
Serve on buns. I use Suzanne's Grandmother Bread: Homemade Buns recipe with dried minced onion and herbs in the dough.
Top with cheese if you'd like!
Categories: Breads, Crock Pot, Crowd-Size, Main Dish, Pork, Potluck, Rolls, Sandwiches
Submitted by: cindyp on May 8, 2010