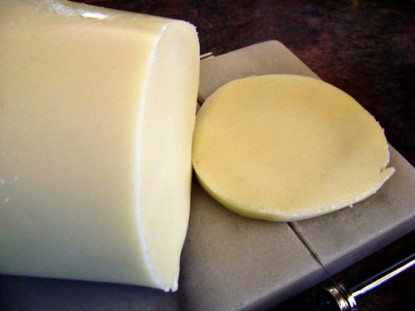 Difficulty: Easy
Servings: 1 1/2 pounds
Ingredients
2 1/2 gal milk
2 c white vinegar
3 tsp baking soda
3 tsp salt
2 Tbsp butter
1/2 c sweet cream
(Opt) Cheddar cheese powder or cheese coloring **I did not use anything, so it looks like plain white cheese.
Directions
Heat milk to 128 degrees. Slowly pour in white vinegar to sour the milk. Stir all the time you are pouring in vinegar. Cover and let sit for 1 hour.
Drain and really work in baking soda and salt. Let sit 1/2 hour. Cut or tear into small pieces.
Melt butter in a saucepan and add sweet cream. Stir, then add cheese pieces and melt over low heat. The cheese powder may be added, if using.
** I poured into a cottage cheese container as a mold and after it "hardened", I ran a knife around the edges so the cheese would slip out. Then I keep it in a rectangle plastic covered dish, so I can take it out to slice it.
I yielded 1 1/2 pounds from this recipe using 2 gallons of milk.
Categories: Homemade Cheese, Soft Cheeses
Submitted by: cindyp on May 8, 2010