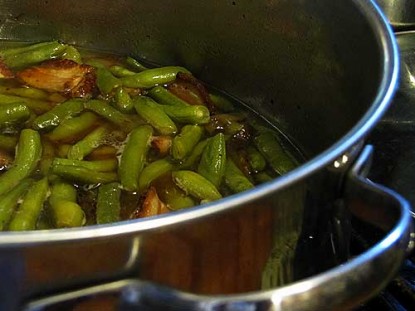 Difficulty: Easy
Servings: varies
Prep Time:
10 minutes
Cook Time:
1 hour
Ingredients
1/4 pound sliced peppered bacon, chopped in pieces
1 medium-sized onion, sliced
1 quart green beans, fresh or home-canned
1 teaspoon sugar
1 teaspoon salt
1/2 teaspoon seasoned salt
water
Directions
If you aren't using peppered bacon, you'll want to add some pepper. You can leave out the sugar, but I like the sweet-salty flavor in the dish. Up to you!
Wash green beans (if using fresh); drain. Chop the bacon in pieces. I leave them pretty chunky. You can make them smaller or larger. Start the bacon frying on medium in large pot. Slice onion and add to pot to cook with bacon. You can add more or less onion, and slice it any way you like.
When the bacon is about half-cooked (just starting to brown a little bit) add green beans. (DO NOT drain bacon grease! Well, you can drain a little bit, if you must, but don't go out of control here.) Add sugar, salt, seasoned salt, and just enough water to cover. (If using canned green beans, the liquid from the jar or can may be enough.) Bring to a boil. Turn the heat down, cover pot, and simmer for at least 45 minutes. If you really want to cook them down hard, after 45 minutes, take the lid off and turn up the heat.
Adjust seasonings to taste and serve!
Categories: Budget, Old-Fashioned, Side Dishes, Vegetables
Submitted by: suzanne-mcminn on August 26, 2010