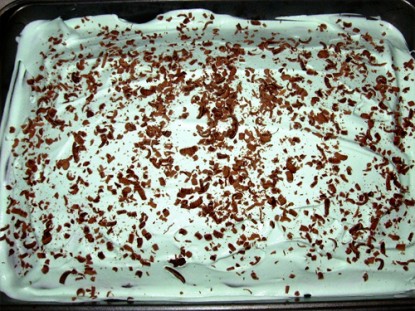 Difficulty: Easy
Ingredients
FOR THE CAKE:
1 box white cake mix
1/4 cup creme de menthe
1 jar hot fudge sauce
FOR THE FROSTING:
1/4 cup creme de menthe
1 small box instant vanilla pudding mix
1 tub whipped cream
1 cup cold milk
Directions
Make the cake according to the directions, but add the creme de menthe to the batter. Bake as directed on the box. Once cooled, spread the hot fudge sauce over the top of the cake.
Mix the pudding with the milk and creme de menthe. When smooth, fold in the whipped cream. Spread over the layer of hot fudge sauce and top with grated chocolate.
Categories: Cakes
Submitted by: rmr1984 on May 1, 2011