When I was in high school, I had the great good fortune to get a job in the neighborhood A&P store. This was not a supermarket–we didn't even have shopping carts. When you wanted a roast, you told the butcher what you were looking for and he prepared your roast. I was privileged to work behind the meat counter for a German master butcher. He taught me how to select and cut meat.
The Safeway store this week has/had pork shoulder butts on sale for 99 cents per pound. They were sold in packages of two, total weight about fifteen pounds. I bought a package, took them home and cut them into sizes that two people could use without getting completely tired of them.
All this brings us to supper. People that I know have difficultly cooking nice meals for just two. Nancy and I have been empty-nesters for more than 25 years. This supper makes a perfect two person meal.
I took a 2 pound piece of the pork, seasoned it with salt and black pepper and some dry Italian seasoning, and put it in a glass (Pyrex) roasting pan at 350 degrees. After about 30 minutes, I added a sweet potato, peeled and sliced into 1/2-inch thick pieces. The roast continued until the potatoes were almost done. At that time, I put some broccoli on to steam.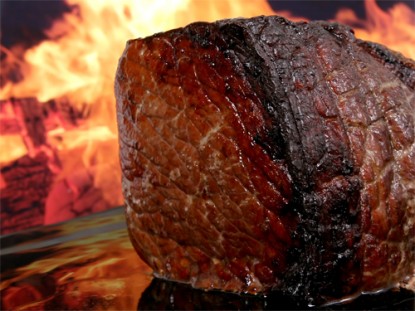 When the broccoli was done, so was supper!


Get the handy print page and save this to your recipe box here:
Roast Pork.

Do you have a recipe post or kitchen-related story to share on the Farm Bell blog?
Read information here for Farm Bell blog submissions.

Want to subscribe to the Farm Bell blog? Go here.