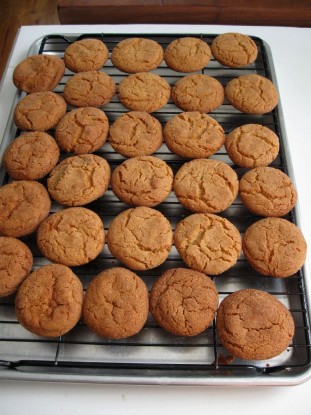 Difficulty: Easy
Servings: 36 cookies
Prep Time:
15
Cook Time:
12 to 15 minutes
Ingredients
3/4 cup shortening
1 cup sugar
1 egg
1/4 cup honey
2 cups flour
1 teaspoon ginger
2 teaspoon baking soda
1 teaspoon cinnamon
1/2 teaspoon salt
Directions
Cream together the shortening and the sugar. Add honey and egg and mix well.
Mix dry ingredients together in bowl and then add to shortening mixture. Mix well.
Form into l inch balls and roll in a cinnamon/sugar mixture. Place about 2 inches apart on ungreased cookie sheet; they will spread and crack open like gingersnaps.
Bake 375° for 12-15 minutes
Categories: Cookies & Bars
Submitted by: glendad on December 3, 2011