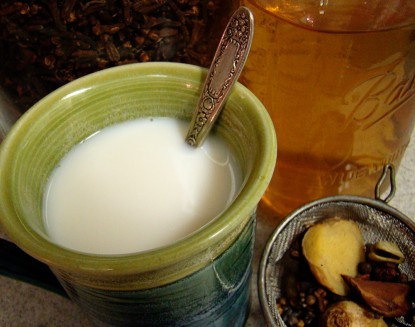 Difficulty: Easy
Servings: 2 quarts +
Prep Time:
10 minutes
Cook Time:
20 minutes or so to boil
Ingredients
1 star anise
20-24 whole cloves
12-14 whole alspice
2 heaping teaspoons of broken cinnamon bark [or thereabouts]
12-14 whole white peppercorns
6 green cardamom pods, opened so the seeds can come out
2 inches ginger root, sliced
1 quart of water
1/4 cup sugar [or more to taste]
Directions
Put all the spices in a pot with the water and simmer for 20 minutes or so.
If you like it mild, then strain the spices out. Add the sugar and add enough water to make a full quart. To serve, add equal parts chai and milk to a mug. If you're not using it all right away, then keep the extras in the fridge in a jar.
If you like it stronger, then leave the spices in the brew. Pour it into a jar and add the sugar. Add enough water to fill up the quart. Keep the jar in the fridge. It'll get stronger as it sits. When it's good and strong, I put 1/4 cup of the brew in a mug, add a 1/4 cup of water and 1/2 cup of milk, then nuke it all until it's good and hot.
Categories: Beverages, Entertaining, Gift Basket Goodies, Other Breakfast, Other Special Diets, Special Diets, Special Occasions
Tags: caffeine-free
Submitted by: rurification on December 4, 2011