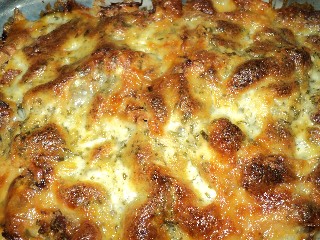 Difficulty: Intermediate
Servings: 8
Prep Time:
20 minutes
Cook Time:
1 hour 15 minutes
Ingredients
20 oz. alfredo sauce*
16 oz.package lasagne noodles
1 pound Andouille sausage, quartered and sliced
1 pound skinless, boneless chicken breast halves, cut into chunks
2 teaspoon Cajun seasoning
1 teaspoon dried sage
1/2 cup chopped onion
1/2 cup chopped celery
1/4 c chopped red bell pepper
1 tablespoon finely chopped garlic
1 1/2 cups shredded mozzarella cheese
1/2 cup grated Parmesan cheese
Directions
*To make homemade alfredo sauce– use 1/2 cup butter 2 cups heavy cream, 1 clove garlic crushed, 1 1/2 cups grated parmesan cheese, 1/2 cup chopped parsley. Melt the butter, add cream, and garlic, cook on medium low heat for 5 minutes, add parmesan cheese and parsley.
1. Preheat oven to 325 degrees F (165 degrees C). Bring large pot of salted water to a boil. Add pasta and cook 8 ot 10 minutes or until al dente; drain.
2. In a large skillet over medium-high heat, combine sausage, chicken, Cajun seasoning and sage. Cook until chicken is no longer pink and the juices run clear. About 8 minutes. Remove meat from heat with a slotted spoon , and set aside. Saute onion, celery, bell pepper and garlic until tender. Remove from hear, and stir in cooked meat and half of the alfredo sauce.
3. Lightly grease 9 x 13 inch baking dish. Cover bottom with 4 lasagne noodles, Spread with 1/2 of the meat mixture. Repeat layers, and cover with a layer of noodles. Spread remaining alfredo sauce over top. Top with mozzarella cheese and sprinkle with Parmesan cheese.
Categories: Casserole, Main Dish
Submitted by: lisabetholson on November 27, 2010