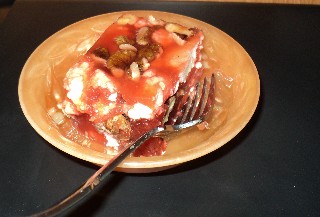 Difficulty: Easy
Servings: 12
Prep Time:
15 minutes
Cook Time:
15 minutes
Ingredients
2 3oz pkgs lemon Jell-O
1 pkg Knox gelatin
3 cups boiling water
1/2 half cup cinnamon red hot candies
2 cups (unsweetened) applesauce
1 tablespoon lemon juice
dash salt
2 3oz pkg cream cheese softened and cut up
1/2 cup broken walnuts
Directions
Cinnamon Applesauce Salad–the way I make it!
Dissolve 2 packages of lemon Jell-O and 1 package of Knox gelatin in 3 cups of boiling water (you can use more if you like because the gelatin is a binder to keep the salad firm when you take it out of the refrigerator) and 1/2 cup cinnamon red hot candies. I boil this until the candies are dissolved or you have to wait and wait and wait and maybe the red hots will dissolve or maybe not. Stir in 2 cups of (unsweetened ) applesauce. 1 tablespoon of lemon juice (I use bottled) and a dash of salt. Pour into a 8 x 8″ pan. (ALWAYS SPRAY YOUR PAN WITH NO STICK OF SOME KIND SO IT WILL DROP OUT EASILY.) The recipe says to partially chill to set and stir. I put the cut up walnuts and cut up cream cheese in now and when it is half set then I stir or not if I forget. Ok this is all there is to it except one thing, ENJOY!
Categories: Jell-O Salads
Submitted by: lisabetholson on November 27, 2010