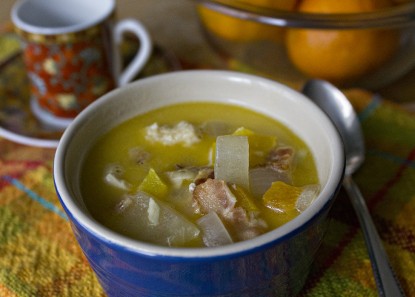 I know that when you saw the name of the post, you immediately had visions of glorified macaroni and cheese sauce with chicken in it, but really this isn't like that. This soup is cheesy and brothy. It's chothy!
Okay. That was dumb, but the soup is delicious. Even if it does call for processed cheese food. Stop rolling your eyes and get the Velveeta out.
Cheesy Chicken Pepper Soup:

3-4 slices of bacon, cooked crisp then cooled and crumbled.
4 tablespoons bacon grease, divided
2 chicken breasts (I used boneless skinless for the sheer ease of it)
1 onion, diced
1 red or orange pepper, diced
1/4 cup flour
2 chicken bouillon cubes
2 cups chicken stock
2 cups water
6-8 oz processed cheese food like Velveeta or that squeezy stuff that you get in Hickory Farms gift boxes (That's what we used. Yum!)
Cook the bacon and set it aside to cool. Brown the chicken and cook it through in 2 tablespoons of the bacon grease.
In a larger soup pan, melt the remaining bacon grease and cook the onion and pepper until soft. Add flour and combine well. Turn up the heat and stir in the bouillon cubes, stock, and water. As soon as it starts to boil, reduce heat and let it simmer until a bit thick. Cut up cheese and stir until it all melts. Add bacon crumbles.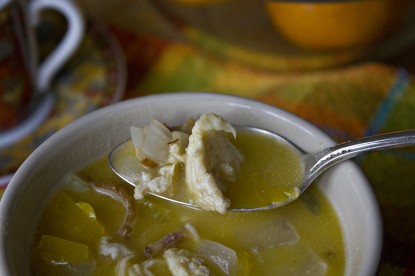 Enjoy! (It's chothy!)
Get the handy printable and save it to your recipe box:
Cheesey Chicken Pepper Soup