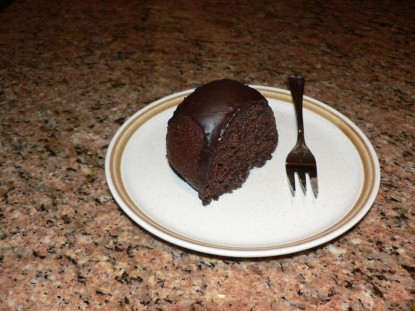 Difficulty: Easy
Servings: varies
Prep Time:
20 minutes
Cook Time:
35 minutes
Ingredients
1/2 cup butter
1 cup water
1/2 cup vegetable oil
5 tablespoons cocoa powder
1 1/2 cups AP flour
1/2 cup whole wheat flour
1 3/4 cups sugar
1/2 teaspoon salt
1/2 cup buttermilk (substitute 1/2 cup milk with 1 teaspoon of vinegar. Stir, and wait 5 minutes)
1 teaspoon baking soda
2 eggs lightly beaten
1 1/2 teaspoons (or more) cinnamon
1 teaspoon vanilla
Directions
Preheat the oven to 375 degrees. Grease a large bundt pan with cooking spray. Put butter, water, oil, and cocoa in a medium saucepan. Bring to a boil.
Meanwhile, whisk together both flours, sugar and salt in a mixing bowl. Pour the chocolate mixture into the bowl with the dry ingredients and mix well.
Then, add the buttermilk and baking soda. Mix together the eggs, cinnamon, and vanilla in a small bowl, and add to the batter. Pour the batter into prepared pan.
Bake 25 to 35 minutes. Allow the cake to cool completely in the pan or it may not release well.
Glaze when cool with a chocolate glaze of your choosing. This is the glaze I use:
3 T cocoa
2 T melted butter
1 cup powdered sugar sifting is recommended
2 to 3 T hot water
Combine all ingredients in a bowl and stir till smooth. Drizzle on top of cooled cake.
Submitted by: squeegee1 on February 12, 2013