After the 2011 CITR Retreat, I was bound and determined to make cheese. In fact, after my Hard Cheesemaking class that evening, I called my "Raw Milk Hookup" just to touch base with her and make sure that she really did exist and did, indeed, have the raw milk. I got her number through my "Chicken and Egg Lady".
To begin my Cheese Cave Adventure, I put out a notice on Facebook that I needed a fridge, preferably free. Some great friends of mine (Elizabeth and Kevin Black) just happened to have a 1950's era green fridge, with no door shelves or vegetables trays, and just a tiny 1'x 1' little freezer box to maximize my cheese space.
This was by far the hardest part of this adventure!
Elizabeth Black
Up the narrow stairway from the Black's basement. The fridge door had to be removed along with the bottom piece.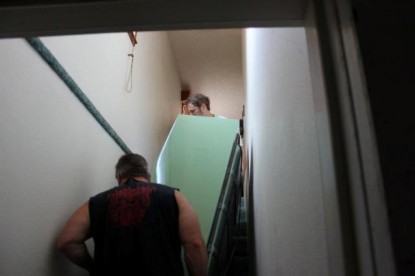 Elizabeth Black
Poor Kevin, you have my undying gratitude. And you will have cheese!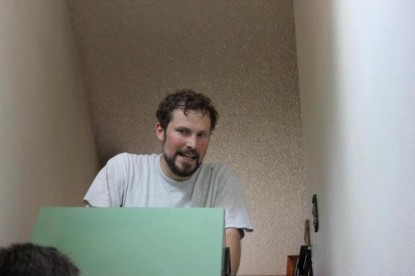 Elizabeth Black
And into the truck it goes!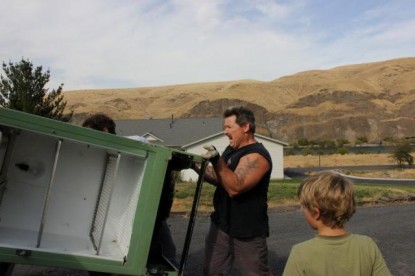 Elizabeth Black
Then, I went on Amazon.com and bought a regulator for a little under $57 including shipping.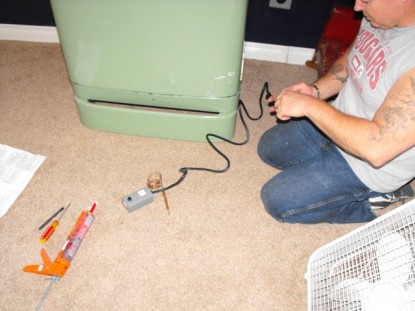 You turn your fridge on high and plug it into this regulator. The regulator gets plugged into the wall and you set your preferred temp on the regulator. A small hole is drilled into the side of the fridge to hang the unit.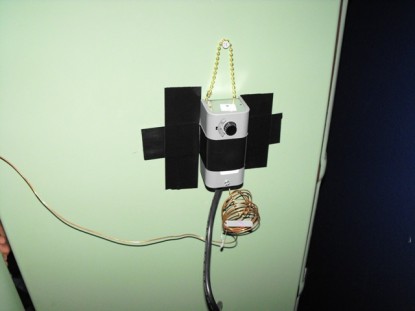 A thermometer snakes through the crack of the door and gets taped to the side of the fridge. Some cheese cavers put their thermometer in water to account for the door opening and shutting which lowers the number of times your fridge will run to compensate for the fluctuation in temp. I got lucky–my fridge is a cheese cave work horse and never runs after I open the door. Most cheese caves do best between 50-55 degrees, depending on the cheese. All my cheeses are going to get along at the same temp/moisture because I am only going to do ONE cheese cave.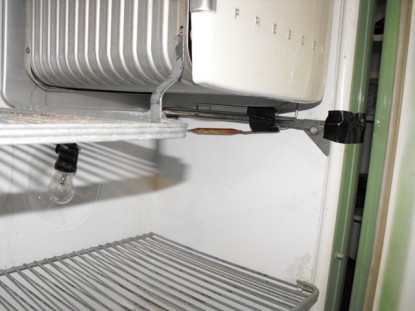 While at Amazon purchasing the regulator, I also purchased a hygrometer/thermometer (wireless) for about $33 including shipping.
This little jewel will measure the temperature and the moisture in your cave. Basically, you put some batteries in the display unit, put some batteries in the sensor and sync the two. I placed the display on top of my cheese cave and the sensor in the fridge.
Then I watched it…for days. It takes a couple of days for everything to get balanced. Moisture is the hardest thing to control. I needed to add moisture, so I put a bowl of water in the bottom of the fridge with a cloth napkin to "wick" more or less moisture out, as needed. 85% humidity is what I shoot for. Some days it's 80%, some days it's 95%. I just move the napkin around and play with it day to day.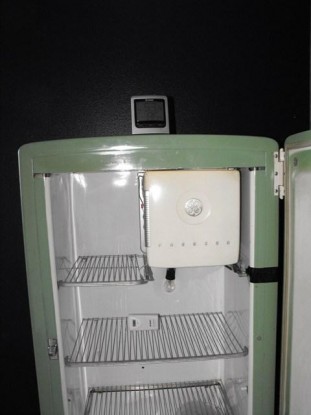 So, that's basically it. Then the fun starts–actually MAKING your cheese! I have Cheddar and her brother Jack in there currently ripening. I will be able to sample them in January. How they got there, well that's another story.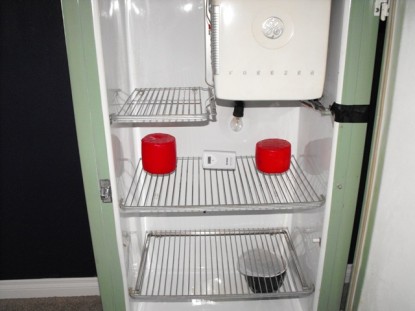 Don't be afraid–make your cave and go forward with THE CHEESE!!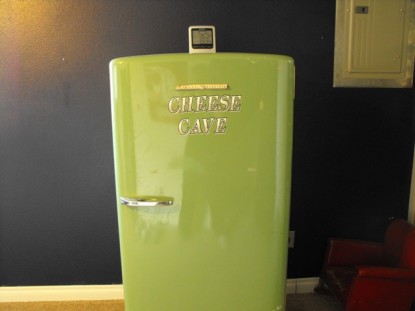 Do you have a recipe post or kitchen-related story to share on the Farm Bell blog?
See Farm Bell Blog Submissions for information, the latest blog contributor giveaway, and to submit a post.

Want to subscribe to the Farm Bell blog? Go here.
What can you enter to win this month? Click here.