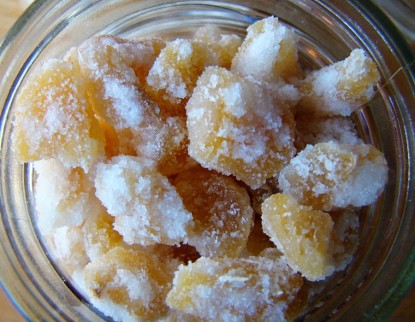 Difficulty: Intermediate
Servings: varies
Prep Time:
1-2 hours
Cook Time:
approximately 1 hour
Ingredients
fresh ginger
water
sugar
Directions
1. Buy fresh ginger. The roots should be firm.
2. Peel the ginger. I saw on Cooks Illustrated that it's easier if you use the side of a spoon to scrape the peel and it worked like a charm.
3. Chop the ginger–in chunks or slices, whatever you want. You do not have to slice it paper-thin like some recipes say. I did chunks. I like chunks. Chunks are great.
4. Put the ginger in a saucepan. Measure the water you put in. Put in enough water to cover the ginger.
5. Put an equal amount of sugar in the pan – that's why you needed to measure the water you put in.
6. Boil for 45 minutes or so. The ginger will shrink some and turn golden in the center as it cooks.
7. Drain the syrup off the ginger. Save the syrup! It's very hot, but great for fruit salads, homemade ginger ale, or drizzled over grapefruit and broiled. Plus you need a bit of the syrup for the next step.
8. Measure the ginger as you put it back in the saucepan (or another smaller one).
9. Put an equal amount of sugar in the pan and 2 tablespoons of syrup for every cup of ginger.
The sugar and ginger will look damp, but not at all wet. You might think it looks too dry. That's okay. As soon as things heat up again, the ginger will release more liquid and it will get wetter. If you think you need more liquid, add a bit more. It won't hurt and it will make you feel better, which is important when you're making candy. I know.
10. Put the pan on medium heat and let it come to a boil. You can turn the heat down a bit if you want to, but you want to keep a good boil. Stir OFTEN. Keep an eye on this. As it boils way down, you'll want to stir constantly so that it doesn't start to burn.
11. Boil until all of the liquid boils out and the sugar separates and gets dry. Stir constantly at the end!
12. As soon as it gets dry, take it off the heat.
13. Put paper under a cooling rack. I used the shelves from my dehydrator. Worked like a charm.
14. Spread the ginger out on the rack to cool and let the sugar fall through onto the paper. Keep the sugar!
15. It'll cool pretty fast. Taste it.
Keep your ginger and sugar in jars, away from humidity.
Categories: Candy
Submitted by: rurification on March 1, 2012