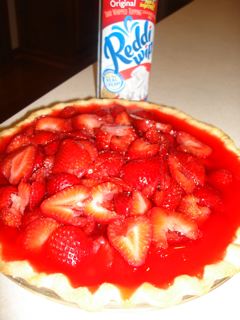 Difficulty: Easy
Servings: 6
Ingredients
One 9″ baked and cooled pie crust
Filling:
1 T milk
4 t water
1 –  8 oz pkg softened cream cheese
2 T sugar
1 quart fresh strawberries–hulled and sliced thin
Glaze:
1/2 c sugar
1 T cornstarch
dash salt
1 3/4 c water
1 – 3 oz pkg. strawberry gelatin
Directions
In a small bowl beat cream cheese, sugar, milk and water until smooth. Spread over the bottom of cooled pie crust and then arrange sliced strawberries over the top. For glaze, in a 2 or 3 quart saucepan, combine sugar, cornstarch, salt and water till smooth. Bring to a boil; cook and stir for 2 minutes or until thickened. Remove from heat; stir in gelatin until dissolved. Chill until partially set. Pour over berries. Refrigerate until set (several hours). Top with whipped cream at serving time.
Categories: Desserts, Fillings, Pies
Submitted by: teachrs on May 4, 2010