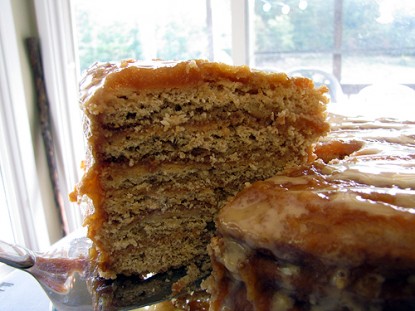 Difficulty: Easy
Servings: 10-12
Prep Time:
1 1/2 hours plus 24-48 hours refrigeration time
Cook Time:
10 minutes
Ingredients
4 1/4 cups flour
1 teaspoon salt
1/2 teaspoon baking soda
1 teaspoon baking powder
1 teaspoon cinnamon
1/2 teaspoon allspice
6 ounces butter, softened
1 1/4 cups sugar
3/4 cup molasses
2 eggs
1/2 cup milk
3 cups applesauce
1/2 cup molasses
2 cups powdered sugar, sifted
enough molasses and milk to make icing
Directions
Combine the dry ingredients in a large mixing bowl. Cream the butter and sugar with an electric mixer. Add the eggs, molasses, and milk to the creamed butter and sugar. Mix again. Add the creamed mixture to the bowl with the dry ingredients. Stir well by hand to combine. It's a fairly thick batter, a cross between a cake batter and a cookie dough. Wrap and refrigerate the dough for 30 minutes to an hour. Preheat the oven to 350-degrees. Divide the dough in six equal parts. Unless you have six round cake pans, you'll have to bake the layers a few at a time. (You can use an 8- or 9-inch cake pan. It's no big deal.) Line the bottoms of the cake pans with parchment paper. Roll out each section of the cake batter in the cake pans. What works best for me is using my fingers to press out the batter in the pans then finish with a small measuring glass to even it out to the edges.
Bake at 350-degrees for about 10 minutes–keep an eye on them. They'll bake a little faster or slower depending on what size cake pan you're using. Set each layer aside to cool as you bake the remaining sections. Once all the layers are baked and cooled, you're ready to assemble your stack cake! Combine the three cups of applesauce with the 1/2 cup of molasses. Spread 1/2 cup applesauce-molasses mixture over the top of each layer as you stack the layers on top of each other. When you're finished, spread a thin layer of applesauce-molasses all over the top and sides of the cake. Wrap the cake and refrigerate for 24-48 hours.
Before serving, prepare the molasses icing. Add enough molasses and milk to the sifted powdered sugar to make a pourable icing. Drizzle over the top of the cake and down the sides.
Categories: Cakes, Desserts, Entertaining, Old-Fashioned, Presentation
Submitted by: suzanne-mcminn on September 26, 2014