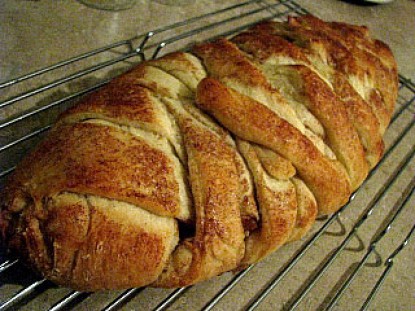 Difficulty: Intermediate
Servings: 1 loaf
Cook Time:
30 min
Ingredients
Start with the one-loaf standard Grandmother Bread recipe:
1 1/2 cups warm water
1 teaspoon yeast
1/2 teaspoon salt
2 tablespoons sugar
3 1/2 cups flour
Filling:
2 tablespoons melted butter
2 tablespoons brown sugar
2 teaspoons all-purpose flour
1/2 teaspoon cinnamon
1 cup chopped, peeled apples
Directions
In a large bowl, combine water, yeast, sugar, and salt. Let sit five minutes. Stir in flour with a heavy spoon until dough becomes too stiff to continue stirring easily. Add a little more flour and begin kneading. The amount of flour is approximate–your mileage may vary! Continue adding flour and kneading until the dough is smooth and elastic. Let dough rise in a greased, covered bowl until doubled. (Usually, 30-60 minutes.) Uncover bowl; sprinkle in a little more flour and knead again.
Filling:
Roll dough into an 8×12-inch rectangle on a floured surface. Brush melted butter over dough. Combine brown sugar, flour, cinnamon, and apples for filling. Spread filling down the middle of the dough. At the sides of the filling, cut the dough at 1-inch intervals.
Fold dough strips over the filling to wrap, alternating strips to make a braid.
Carefully move filled loaf to a greased baking sheet. Brush top with more melted butter; sprinkle with sugar. And more sugar. And some cinnamon-sugar. Let rise till doubled.
Bake at 350-degrees for 30 minutes. Serve warm slices with ice cream.
Try peaches or other fruits in this recipe. Add nuts and/or raisins–it's all good!
Categories: Breads, Other Desserts, Pastries, Yeast Breads
Submitted by: suzanne-mcminn on June 14, 2010