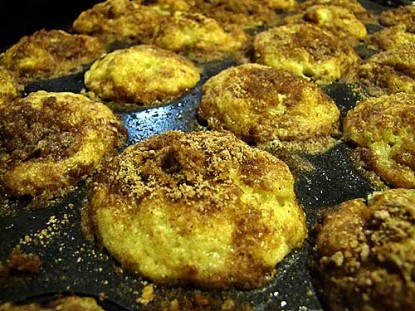 Difficulty: Easy
Servings: 11-12
Prep Time:
10 minutes
Cook Time:
20 minutes
Ingredients
Muffins:
1 1/2 cups all-purpose flour
1 tsp baking soda
1 tsp baking powder
1/2 tsp salt
4 large bananas (you can use 3, but 4 is MUCH better)
3/4 cup white sugar
1 egg, lightly beaten
1/3 cup butter, melted
Topping:
1/2 cup brown sugar
3 tbsp flour
1 tsp cinnamon
2 tbsp butter
Directions
1. Preheat oven to 375 degrees and grease or line muffin cups. (Recipe usually makes about 11-12 for me.)
2. Mix the flour, baking soda, baking powder, and salt together in a large bowl. (This will be your final mixing bowl, so you want it to be big enough to hold everything.)
3. In a separate bowl, mash together the bananas, sugar, egg, and melted butter. Stir the banana mixture into the flour mixture.
4. Spoon batter into muffin cups. I usually fill to 3/4 full because I like the muffin tops to sort of spill over the top.
5. Mix brown sugar, flour, and cinnamon. Cut in the butter, then sprinkle the mixture over the top of the muffins.
6. Bake for 18-20 minutes.
Categories: Breads, Breakfast, Desserts, Muffins
Submitted by: fmcdaniel on May 5, 2010